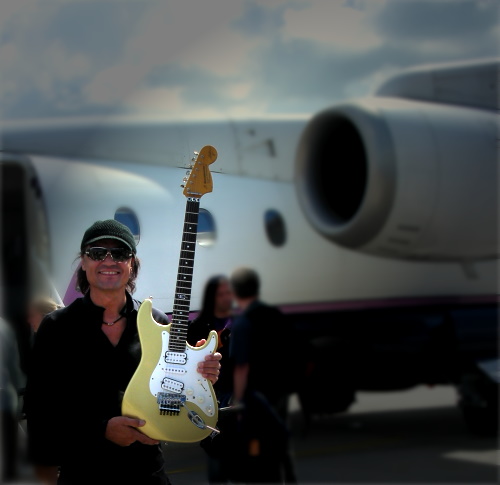 MASTERCASTER
MATTHIAS JABS signature guitar

The basic idea was a better follow up of the Jabocaster. It should be able to produce all the different sounds of the Scorpions, from wallcrashing heavy to ultraclean. All sounds should be avaiable from the guitar controls.
Also it should feature 24 frets. The development took a couple of prototyps, the final model represents the optimum.
This varity of sounds is possible by the use of the brandnew Dommenget patented pickups,
carefully made to Matthias specifications.
Body : old german alder
neck : european maple, carbon-reinforced, medium D
Fretboard : rosewood, long scale
frets : jumbo Dunlop 6150 (Gibson)
machineheads : Kluson diecast
bridge : FloydRose orginal
Pickup Bridge : "Masterbucker B" (DOUBLEBUCKER combination Musclebucker / Strat-plus, patented)
Pickup middle : Funkstrat, reverse polarity
Pickup Neck : "Masterbucker N" (DOUBLEBUCKER combination PAF 84 / Funkstrat, patented)
Controls :
1x Volume for Bridge Pickup
1x Volume for Middle/ Neck Pickups
1x Mastertone (with org. NOS Paper-oil Condenser, like 50s LP), Push/Pull switches the neck-pickup from singlecoil to humbucking (Paf)
1x Leadswitch (switches the bridge humbucker straight to the socket, the remaining circuit is completly disconected)
1x custom 5-way pickup selector switch
Positions of the 5-way switch ( from bridge to neck ) :
1.) Bridge Humbucker
2.) Bridge Humbucker + middle pickup
3.) Bridge Singlecoil + middle pickup (humbucking effect)
4.) middle pickup + neck pickup (as singlecoil, P/P down humbucking effect)
5.) neck pickup, depending on the P/P position humbucker (Paf) or singlecoil (Funkstrat)
Another advantage of the volume-controls is the constant soundquality plus both controls work independent.
If one control is completly turn down the other still works (not like LPs). The neck-joint and cutaways are slightly modified
to allow full playability of the 24 frets. For soundreasons we use the good old 4-hole steelplate to hold the neck.
The connection is "wood-on-wood" non-laquered to enhence the sound even more ( an old Jimi Hendrix trick with remarkable results ).
The org. FloydRose tremolo is mounted flat to the top (downwards only) for more sustain and stay-in-tune-ability.
The nitro laquer is ultra thin and hand polished.
Mastercasters are available exclusivly at: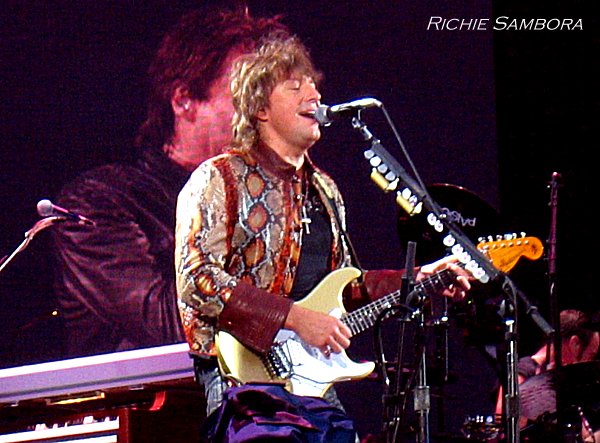 watch Richie playing his Mastercaster, click here
Mastercaster gold
as played by Richie Sambora of BonJovi, read a Testreview , scroll down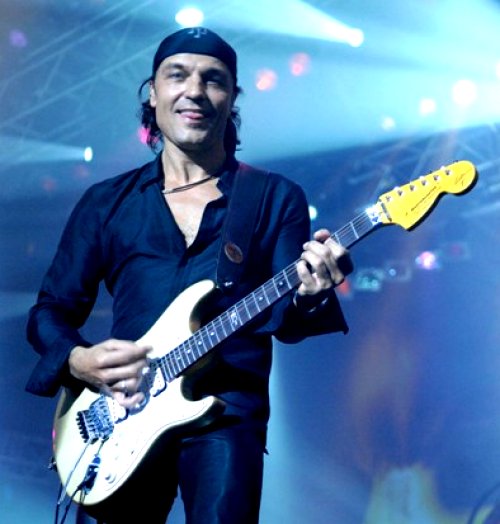 Mastercaster, the very first
Matthias` original Prototyp, note the 2 Pickup design. The Bodyshape is like an org. Strat,
but the fretboard has 24 frets and extends into the Body. 2 patended Doublebuckers made to Matthias` specifications.

Mastercaster white zebra
Matthias 2nd Mastercaster, Bodyshape like the first one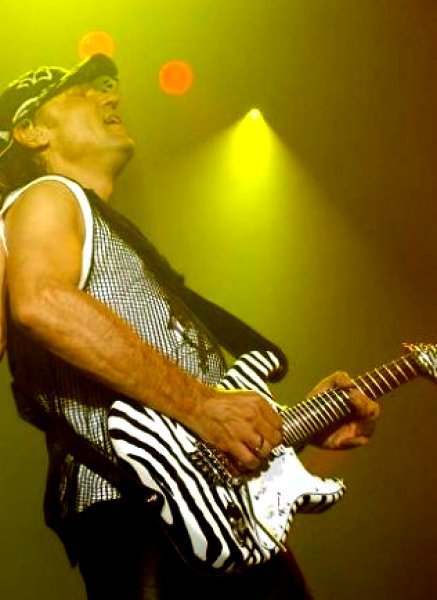 Mastercaster blue zebra
Matthias 3rd Mastercaster, with a new designed body for better
playability of the upper frets, now with 3 pickups

Mastercaster candy apple red
the final version feat. a new headstock design and logo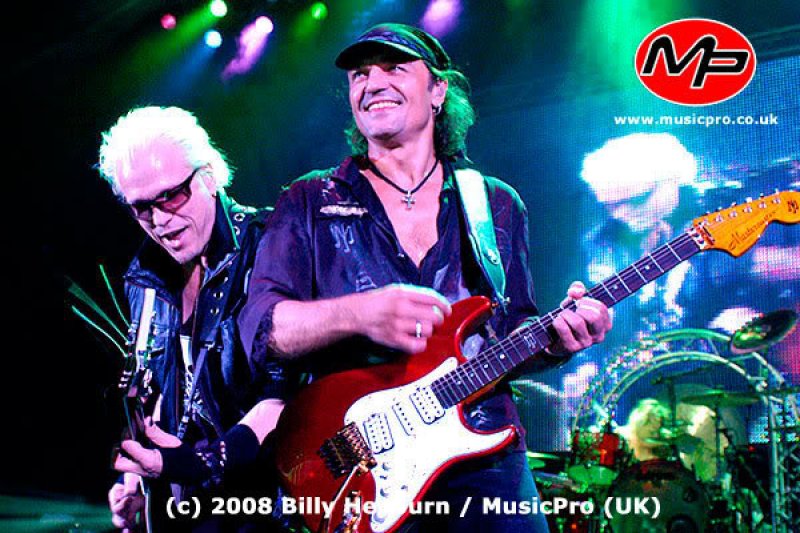 Mastercaster candy apple red, matching headstock

Mastercaster 2-tone sunburst

Mastercaster black on silver
unfortunatly this guitar got stolen on a tour in Mexico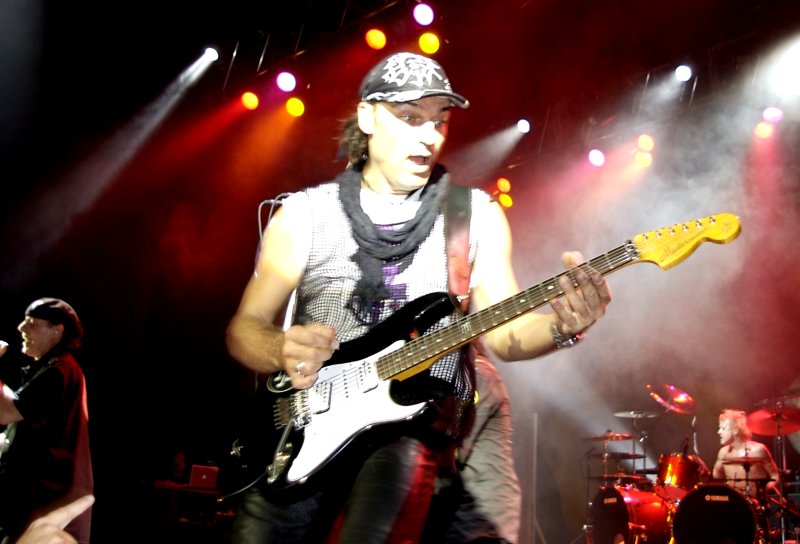 Mastercaster white zebra
the final version with the new headstock and Logo

Mastercaster review in the german magazin "Grand Guitars"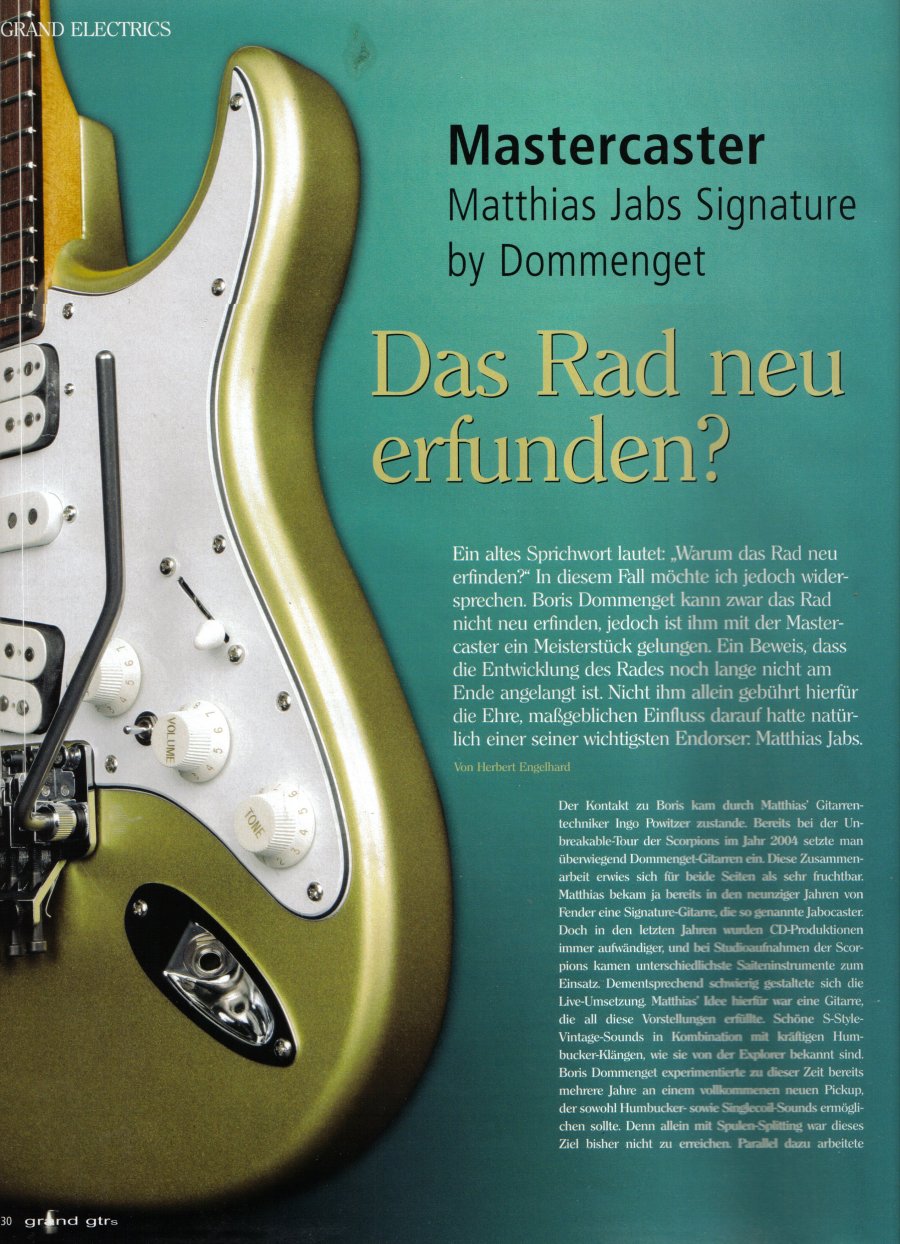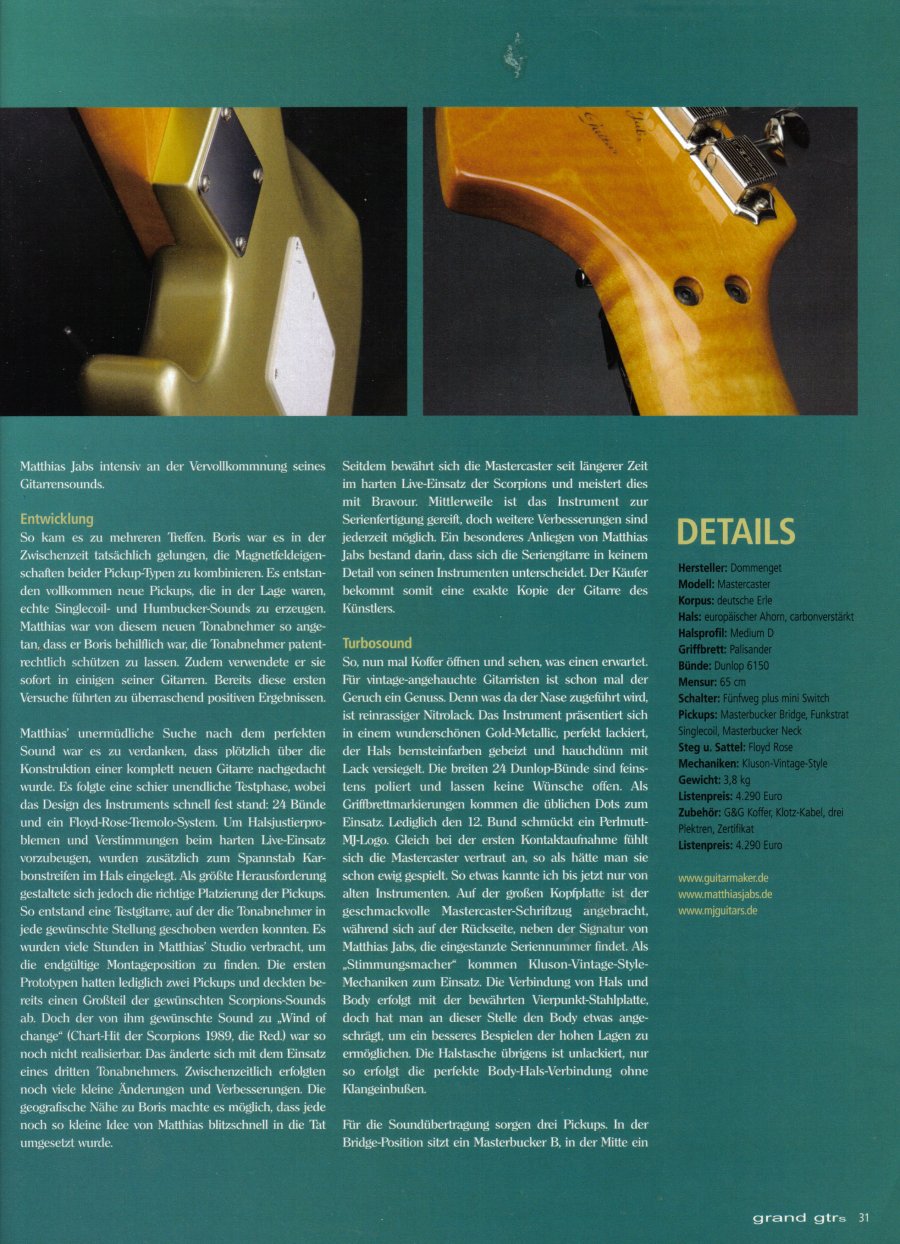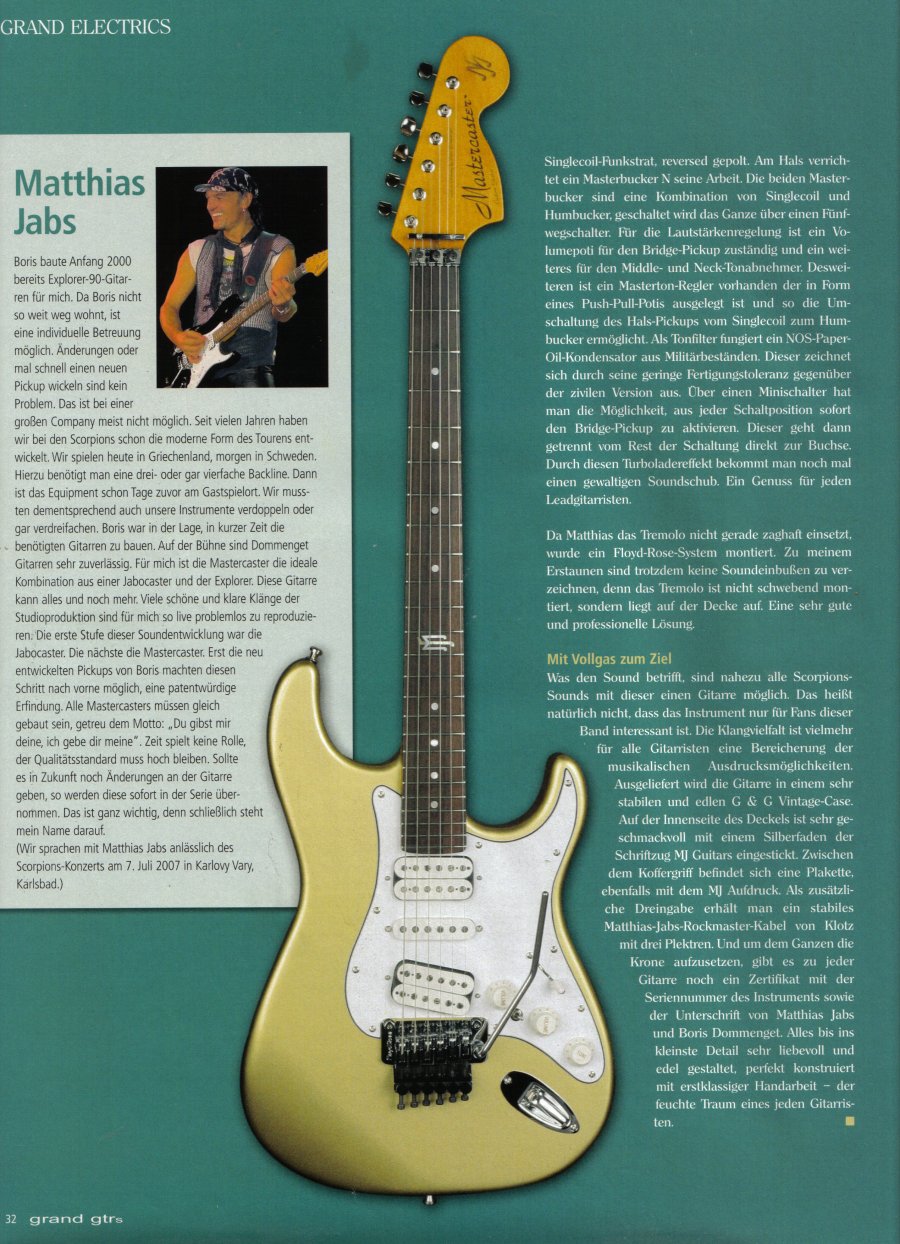 The Making of MASTERCASTERS (slideshow), click on the picture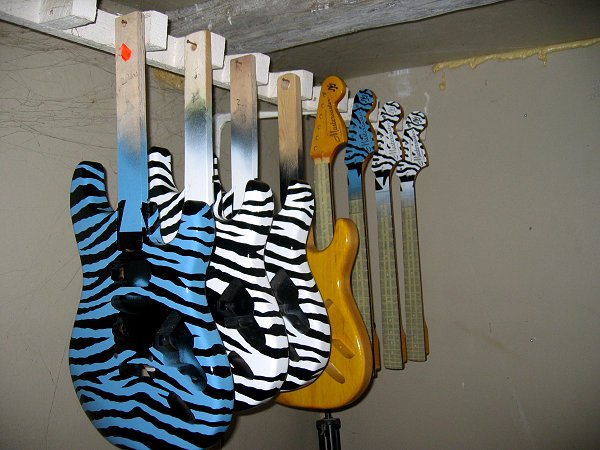 Mastercasters are available exclusivly at: