handmade PICKUPS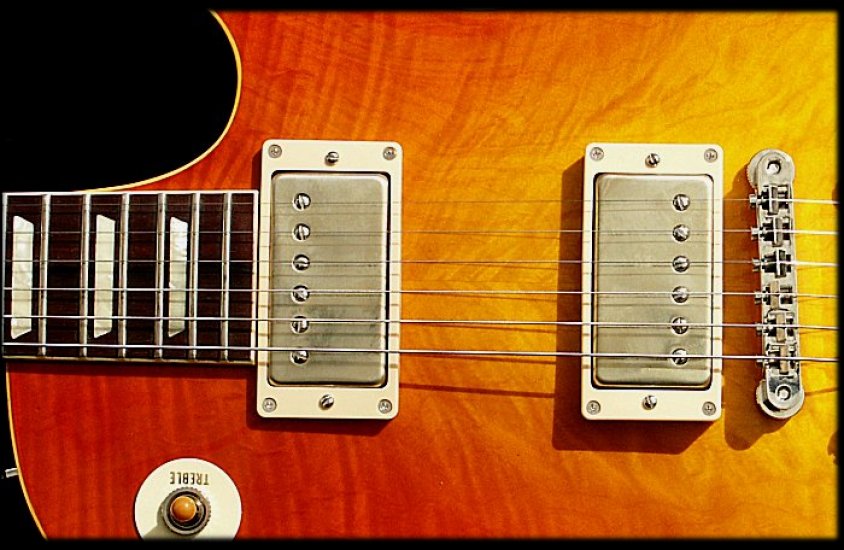 PAF "TESTPAIR" PAF 93 and PAF 84,.

Soundfile taken from the "Gitarre & Bass" testreview, by Udo Pipper:

<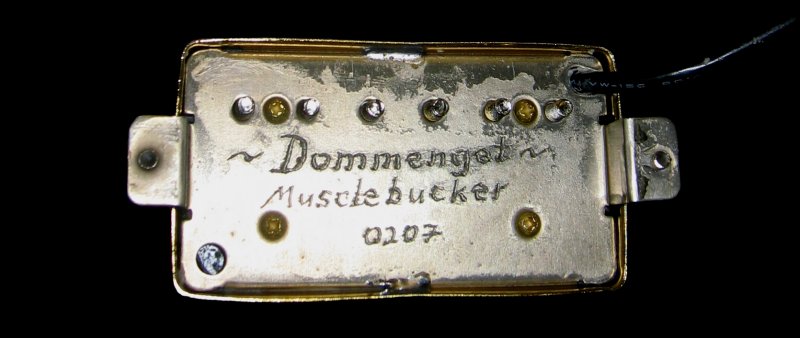 the legendary Musclebucker, the SCORPIONS favourite pickup,
(also in their non-Dommenget guitars) check out the videos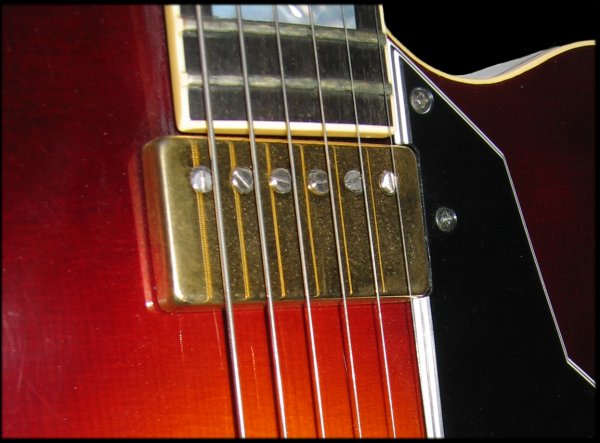 the unique floating JAZZBUCKER, ultraslim (8,5mm), click here for more information.
Ali Claudi playing his Dommenget Govenor feat. the Jazzbucker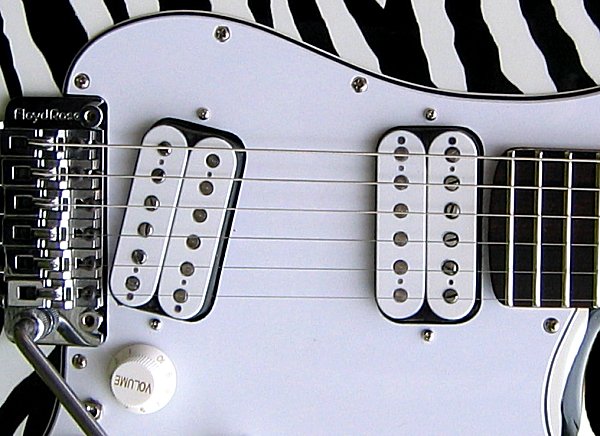 the sensational patented DOUBLEBUCKER, real humbucking plus real vintage singlecoil sounds.
click here
to find out more.
HUMBUCKERS
PAF 78

a low power example, just like the PAFs of 1960,

when Gibson production started being very constant.

very clean sounding, lots of treble.

You can listen to Peter Driessen playing this set in

one of my FIFTYNINEs, listen here

PAF 84

the winner of the "Gitarre & Bass" comparing Testreview,

great at all positions, my favourite for the neck.

I cloned the best sounding PAFs from the 50┤

PAF 93

the winner of the "Gitarre & Bass" comparing Testreview,

my favourite for the bridge.

This is a clone of one of the strongest PAF from the 50┤.

The resistance varied a lot those days.

"TESTPAIR" Set

PAF 93 and PAF 84 with german silver cover,

the covers are waxed.

My "bestseller", satisfaction garantied.

Read the testreview here.

You can hear a few examples, click on videos

"PETER GREEN" Set

2x PAF 84 with german silver cover,

the covers are unwaxed, the neck pickup

has reverse polarity for a nice out-of-phase sound

in the middle position.

"DICKY BETTS" Set

2x PAF 78 with german silver cover,

the covers are unwaxed.

Listen to Peter Driessen playing my FIFTYNINE

with this set, listen here:

CUSTOM

my variation of the JeffBeck,

nice woody tone with a strong midrange,

Matthias Jabs┤ favourite for corinna Explorers.

Available for bridge and neck positions.

MUSCLEBUCKER

the strongest pickup on the market. I found this receipe

by mistake, it goes against every rule of pickupmaking

by reading over 20 Kohm. Never mind, it will blow you away,

lots of power, attack and bite.

The SCORPIONS favourite in most of their guitars,

look at the videos

MUSCLEBUCKER Set

The Musclebucker is also available for the neck position.

The split sounds are much better as with standart

humbuckers. Great clean sounds possible as well.

4-wire cables give you all the options.

patented DOUBLEBUCKER (HBSC)

choose your most beloved Humbucker plus your favourite Singlecoil.

I combine them into one pickup - the DOUBLEBUCKER.

Not possible? Just watch the Mastercaster videos.

MINI Humbucker

an exact reproduction of the 63┤ Firebird mini humbucker.

Just like the one I once owned (see history).

Listen to Peter Driessen playing one of my FIREBIRDs:

floating JAZZBUCKER

just 8,5mm hight, full deep PAF sound.

DeArmond tpye sound and singlecoil can get switched.

More information here.

THE BRAIN

a passive soundexpander for LesPauls

and similar guitars. Get crystal clean sounds,

the unique "garbage-can" sound and many more.

Standard in most of my guitars.

Read a review here.

There is a video where I show what it can do, click here
The Scorpions guitartech Ingo Powitzer
Humbuckers are available with open coils in black, cream, zebra, white
and with german-silver covers in nickel, chrome, gold, black-chrome and antic (raw, unplated, nice vintage look).
All open humbuckers get "blackwaxed", which means that all gaps get sealed with a spezial wax to prevent damage from sweat and dirt.
SINGLECOILS
TURBOSTRAT

2 sounds in 1 pickup,

vintage and a full power lead sound.

Fits in any vintage Strat without modifications.

You┤ll be surprised.

STRAT SINGLECOILS

available as 57┤, 62┤, 69┤ Woodstock,

and 74┤ Funkstrat, also as sets.

Read the testreview of a 57┤ set here.

TELE SINGLECOILS

available as TURBOTELE

( bridge, 2 in 1, vintage and full lead sounds)

Tele vintage bridge, Tele Rick Parfitt bridge,

vintage neck, Tele plus neck (PAF power)

TELE SETS

all combinations available

P-90

measurments taken from the best sounding examples from the 50`.

avaiable for bridge and neck position, and sets.

JAZZ 1000

a faithful DeArmond Mod.1000 replica in a "woody" look.

Floating design for mounting at the pickguard.

You can read a testreview of my IMPERATOR archtop

with this pickup here
a little bit of history
I started making pickups in 1979. Well, I had no choice, because I had to make a 7-string guitar for Juraj Galan
(Check out his video). There was nothing on the market I could buy. I had to give the bobbins to another company
to wind them to my specs. After my examination as a guitarmaker in 1980 I did setup an own workshop making guitars
and doing lots of experiments with pickups. For example did I unwind very strong Tele pickups until I liked the sound.
At that time Bill Lawrence had his pickup factory nearby and I used a lot of his pickups.
In 1983 Bill did let me share his booth at the Frankfurt music fair. He told me what┤s all about with pickups
and how they work. Bill is the definite godfather of pickups.
So in 1983 I builded my first winding "machine". It was a 5 bucks construction and it took about half a day
to wind one pickup. I mainly used it for rewinding jobs.
The situation changed when I reopened a new workshop in 1990 in Hamburg.
I was making acoustic archtop guitars and urgently needed a few floating pickups.
I builded a new professional winding machine with precise control over speed, turns, wire tension
and guiding. As I┤m not an trained electronic expert I just follow my ears when I create new pickups.
My "Frankenstein" guitar helps me a lot as I can exchange pickups and circuits on-the-fly
to compare. This guitar also helps a lot to find certain pickup positions.
It is amazing how much the sound can change by moving a pickup just a little.
The pickup-wire I use is custommade to my specifications. This is very expensive as the custom wire costs more
than double of the standard one. But I believe that the sound-improvement is very worth it.
All magnets I use are alnico 5, some are weakened to a certain amount to get a more vintage feel.
In 2004 I got my first patent for the HBSC DOUBLEBUCKER, the first pickup on the market
that can produce full humbucker and real singlecoil sounds.
"Frankenstein" pickup test guitar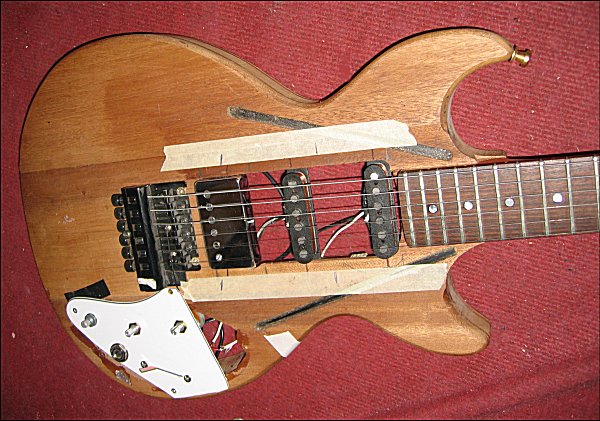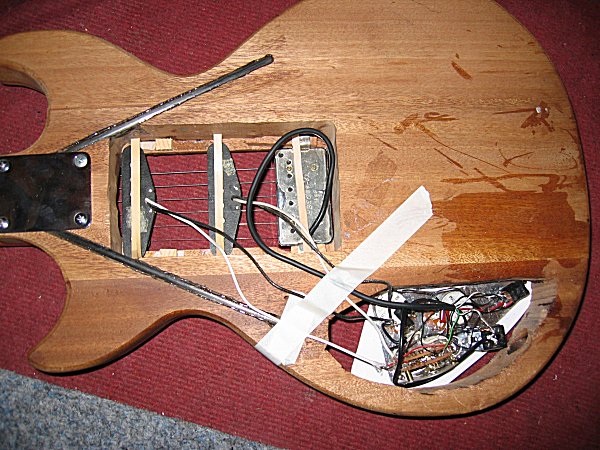 I used on old body and neck that was laying around and had to stabilize the body
with carbon-rods. Now it┤s got pretty good sustain.
Not really a beauty, but it does the job.
THE FUTURE
here is a what I┤m working on at the moment. Real singlecoil sound but
no hum. The "Flintstone" pickup (patent applied for).
This one I made for Rick Parfitt (a real prototyp)